News and Information
Safeguarding - please see scroll down panel to the right.
SERVICES
There is currently no reguar priest in this benefice until a replacement for Revd Camilla is found.
Each Parish Church will have one Holy Communion per month and there will be a Family Service led by Ruth Abbey, Lay Worship Leader.
We will endeavour to publish information as to where services are and who will be leading them on the linked page from here.
FORCETT PARISH EVENT
On Sunday 31 July Forcett Park has been opened to visitors to raise funds for Forcett church. Details are on this flyer
BAPTISM
If you are attending a Baptism, the Order of Service of Service is here, (PDF)
or here as images.
Evening Hymns - new Aldbrough service
On the third Sunday of the month September to November and January to March, there is an informal service based on singing well-known hymns and learning new ones, at 4.00pm in St Paul's. The service will be followed by tea and cake in the narthex. If you enjoy singing, even if you think you don't know many hymns, this could be a good service to try.
This service will take a break for the summer. We hope to start again in September.
Donations to our churches
If you would like to donate to our churches, please click Donations The donations details for all three parishes plus the benefice as a whole can be found there. Thank you. But please see also the next paragraph.
The best and easiest way to give to your church, however, is with the Parish Giving Scheme. Once you have signed up there is no need to worry about forgotten collections, the wrong notes / coins or Gift Aid envelopes. Our three parishes have registered to use it and our Treasurers think it is wonderful.
Please see our page about it to see more about PGS in our parishes.
Thanks, Celebration, Commemoration
Take a look at our Thanks, Celebration and Commemoration pages. If you would like to give thanks, or celebrate or commemorate a person or event, we can add a short message there.
Foodbank Donations
We support the Richmond Storehouse Foodbank with donations. See this page about the foodbank. When you come to church, please consider bringing a tin, jar or packet of something suitable for the foodbank collection. There are boxes for your food bank donations in Aldbrough, Forcett, Melsonby and East Layton churches and donations are taken regularly to the food banks in Richmond and Darlington.the New Year.
Prayer Circle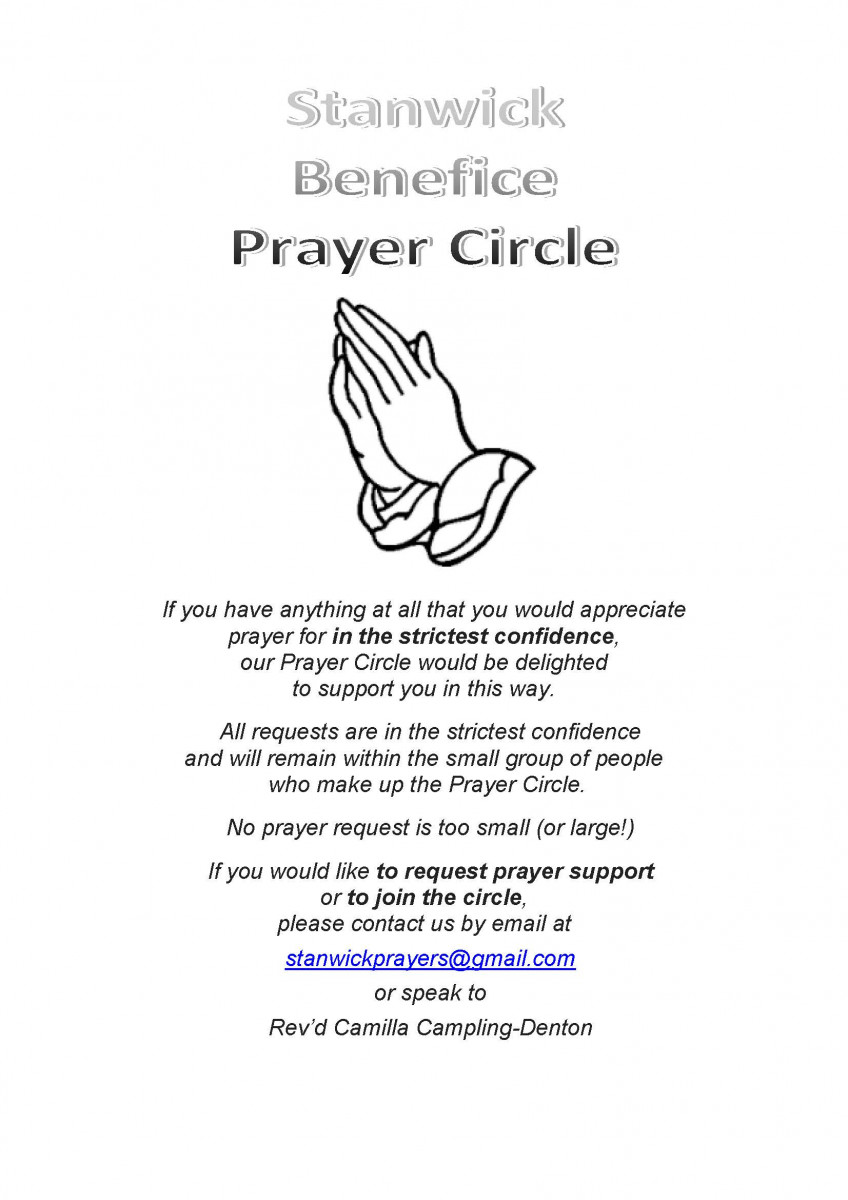 If you have anything at all that you would appreciate prayer for in the strictest confidence,
our Prayer Circle would be delighted to support you in this way.
All requests are in the strictest confidence and will remain within the small group of people who make up the Prayer Circle.
No prayer request is too small (or large!)
If you would like to request prayer support or to join the circle, please contact us by email at
Vocations
If you wwould like to know more about a vocations and ordination in the Church of England, please see this video from the Diocesan Ordinations Team.
Bell-ringing in the benefice
There is now a band in Melsonby. If you have rung or are interested in learning, see here
A group has now started ringing under the tutelage of Rob Kirby. They meet on Tuesday evenings from 6.30 to 8.30pm. New ringers, either experienced or learners, are welcome.
BELL RINGING IN THE BENEFICE IS NOW BACK IN BUSINESS so go along if you are interested.