St James' Melsonby
Parich church of St James' the Great, Melsonby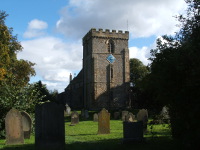 There was a church on this site before the Norman Conquest in 1066, and a resident priest is recorded in the Domesday Book of 1086.The parent parish was Gilling but it seems that Melsonby was already a separate entity by then. From this period,two Anglo-Saxon carved grave slabs remain and are displayed at the entrance to the tower. Another carved fragment displaying a carved hart and hound is on a sill at the west end of the church.
The present church building was begun in 1153 and completed during C13. It belongs to that period when the Norman style was developing into the early English style of architecture.Unfortunately St James' was restored in 1870, a bad period for church restoration as there was a fashion for covering beautiful, ancient stonework with plaster. The chancel was rebuilt at this time and the porch and vestry added. The perpendicular east window was also replaced by the present three lancets.
There is a leaflet available in the church with details of some of the points of interest within this ancient building.
St James' has four bells hung for full-circle ringing but there is currently no band at Melsonby.
Do e-mail us if you are interested in restoring ringing to St James'.
You can find St James' on this Google map.
See the History of Melsonby DVD which has been produced to raise funds towards the St James Building Project to install kitchen and toilet facilities.and reorder the church interior.
See the section below for details of the St James' 'Flush Fund'. Donation can be made via JustGiving